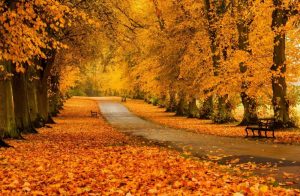 Fall, Leaves, Fall
Emily Brontë
Fall, leaves, fall; die, flowers, away;
Lengthen night and shorten day;
Every leaf speaks bliss to me
Fluttering from the autumn tree.
I shall smile when wreaths of snow
Blossom where the rose should grow;
I shall sing when night's decay
Ushers in a drearier day.
Autumn Fires
Robert Louis Stevenson
In the other gardens
   And all up in the vale,
From the autumn bonfires
   See the smoke trail!

Pleasant summer over, 
   And all the summer flowers,
The red fire blazes,
   The grey smoke towers.

Sing a song of seasons!
   Something bright in all!
Flowers in the summer,
   Fires in the fall!